Improved pipe port to make connection much easier.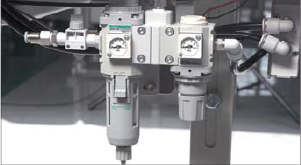 Special process processing of gears and cams,a significant reduction in the machine noise and vibration,after a scientific experimental test,the noise than the historical data reduced by 8-10db,the operator's comfort greatly improved.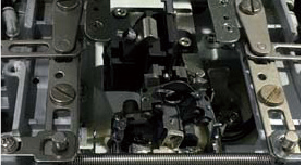 Making the accurate pattem
The machine controlled by servo system,it makes the patterns accurate even in high speed stitching.servo control system avoid the initial position checking.

Improved the looper and thread take-up, machine can stitch different fabric with different thread.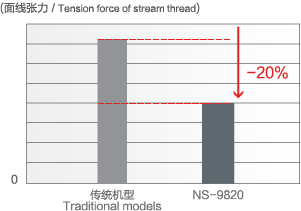 3.0mm-wide zigzag sewing, after-sewing cutting.
2 pieces of polyester serge
(one side of one piece has a layer).
Span thread:#40
Tension force of end thread:30g
Sewing speed:2,500rpm
The display of icons and characters makes it easy to understand


NS-9820 has liquid crystal display (LCD), supported by icon and character display. When setting or checking pictures and changing sewing mode, it is easy to understand and operate.
The position and adjustment of cutting knife can be adjusted by operate panel.All these adjustments will be showing in the operate panel in image.
special specification of thread trimmer for -02 model
The machine model -02 can stitch big size pattern for both casual pants and jeans.the length of eyelet button hole can be 18-26mm.