| | | | | | | | | |
| --- | --- | --- | --- | --- | --- | --- | --- | --- |
| D007R-452-02-L20 | 4 | 6 | 5.2/6.0 | 1.6~2.5 | 1:0.7~1:1.5 | 6 | FLx118GCS*4PCS/FLG-8*1PCS | 4200 |
| D007R-452-02H-T2 | 4 | 6 | 5.2/6.0 | 1.6~2.5 | 1:0.7~1:1.5 | 6 | FLx118GCS*4PCS/FLG-8*1PCS | 4200 |
| D007R-452-02RH | 4 | 6 | 5.2/6.0 | 1.6~2.5 | 1:0.7~1:1.5 | 6 | FLx118GCS*4PCS/FLG-8*1PCS | 4200 |
| D007R-452-02R-T2 | 4 | 6 | 5.2/6.0 | 1.6~2.5 | 1:0.7~1:1.5 | 6 | FLx118GCS*4PCS/FLG-8*1PCS | 4200 |
| D007R-452-02-T2 | 4 | 6 | 5.2/6.0 | 1.6~2.5 | 1:0.7~1:1.5 | 6 | FLx118GCS*4PCS/FLG-8*1PCS | 4200 |
| D007R-452-01-T2 | 4 | 6 | 5.2/6.0 | 1.6~2.5 | 1:0.7~1:1.5 | 8 | FLx118GCS*4PCS/FLG-8*1PCS | 4200 |
| D007R-452-02-T1 | 4 | 6 | 4.8/5.2/6.0 | 1.6~2.5 | 1:0.7~1:1.5 | 6 | FLx118GCS*4PCS/FLG-8*1PCS | 4200 |
| D007R-452-01-DS | 4 | 6 | 5.2/6.0 | 1.6~2.5 | 1:0.7~1:1.5 | 8 | FLx118GCS*4PCS/FLG-8*1PCS | 4200 |
| D007R-452-02-S | 4 | 6 | 5.2/6.0 | 1.6~2.5 | 1:0.7~1:1.5 | 6 | FLx118GCS*4PCS/FLG-8*1PCS | 4200 |
| D007R-452-01-S | 4 | 6 | 5.2/6.0 | 1.6~2.5 | 1:0.7~1:1.5 | 8 | FLx118GCS*4PCS/FLG-8*1PCS | 4200 |
| D007R-452-02H | 4 | 6 | 5.2/6.0 | 1.6~2.5 | 1:0.7~1:1.5 | 6 | FLx118GCS*4PCS/FLG-8*1PCS | 4200 |
| D007R-452-02R* | 4 | 6 | 4.8/5.2/6.0/6.4 | 1.6~2.5 | 1:0.7~1:1.5 | 6 | FLx118GCS*4PCS/FLG-8*1PCS | 4200 |
| D007R-452-02* | 4 | 6 | 4.8/5.2/6.0/6.4 | 1.6~2.5 | 1:0.7~1:1.5 | 6 | FLx118GCS*4PCS/FLG-8*1PCS | 4200 |
| D007R-452-01* | 4 | 6 | 4.8/5.2/6.0/6.4 | 1.6~2.5 | 1:0.7~1:1.5 | 8 | FLx118GCS*4PCS/FLG-8*1PCS | 4200 |

4 NEEDLE 6 THEAD FEED-OFF-THE ARM FLATSEAMER

HIGH EFFICIENT PATENTED DIRECT-DRIVE DESIGN
Compact servo-motor directly drives main shaft with special connector design. It features less weight, agile drive, anti-vibration, low noise, powerful output and precise seaming. Eventually, more cost-saving and integrable electro-control attachments effectively elevate sewing advantage.

FULLY COVER STITCHING FOR ALL LAPSEAMER SERIES
Unique mechanism design to deal with wide range fabrics fulfills the sewing request for top and bottom plies lapseaming, going fully to both left and right edge of the stitch.

PATENTED ELECTRIC PRESSER FOOT LIFTER MECHANISM
The Solenoid smartly concealed in holding base, saving pneumatic volume and accessories, for less weight, anti-vibration, low noise, well balanced body and tidy looks, resulting in time-saving, labor-saving, and higher productivity.

SPECIAL FABRIC TRIMMER DESIGN
Unique fabric trimmer with special material and mirror finish, resulting in frictionless, sharp & durable trimming to enhance sewing quality.

150mm circumference at the needles allows for sewing small tubular work, such as the sleeves seaming of kid's wear.

MAXIMAL OPERATION SPACE DESIGN
Brand-new patented holding base design, providing maximal operation space and saving time to take fabrics, enhances efficient operation and effective sewing.

FUNCTIONAL PRESSER FOOT MECHANISM DESIGN
Various functional presser feet (Gauge Sets) fulfill specific sewing requests, such as sewing diving suit, panty hose, attaching folded / woven tape, cross seaming of taping, binding or overlock seam and general seaming.

FLOATABLE PRESSER FOOT DESIGN
Fitted with various presser foot shoes in different models for a wider range application on specific fabrics, such as heavy/light, spandex, smooth & soft, delicate materials, to fulfill most kinds of sewing requests.

IMPROVED SEALED THREAD HANDLING SET
Sealed thread tension control knob design, preventing from exceptional winding, makes sewing smoother and stabler.
BRAND-NEW AUTOMATIC LUBRICATION SYSTEM
Special "Forced Lubrication" and "Forced Oil Collect" system with filter enhance machine lifetime and possibly eliminate oil stains to qualify sewing performance.
Remark:
1.  The model with * mark is available for 552 model ( 5 needle 7 thread 5.2 needle gauge).
2.  522 model with special needle shank spec. is mainly designed for Spandex fabrics.  While purchasing the needles of 552, please directly contact SIRUBA to meet original spec.
3.  FLG-8  is a retainer for seaming light//soft materials without seam wrinkling.
DEVICE
AVAILABLE MODEL
AW1
ALL D007R
AW2

ALL D007R

TT

D007R-452-02-T1

AK

ALL D007R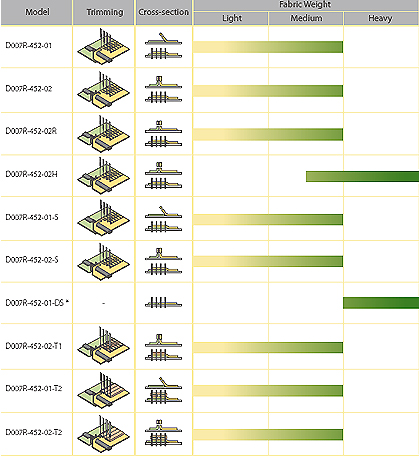 *  DS model: One side trimming is available for a lap seam but not for a standard butt  seam.